Jane HOWARD
(C. Westmoreland)
Born: 1533 / 1537
Died: 1593
Buried: 30 Jun 1593, Kenninghall, Norfolk, England
Father: Henry HOWARD (E. Surrey)
Mother: Frances De VERE (C. Surrey)
Married: Charles NEVILLE (6° E. Westmoreland) ABT 1563
Children:
2. Anne NEVILLE
3. Thomas NEVILLE WESTMORELAND
5. Eleanor NEVILLE
---
Eldest daughter of Henry Howard, Earl of Surrey and Frances De Vere. Her early education was in the hands of Hadrianus Junius. After the execution of Surrey in 1547, Jane and her sisters Catherine and Margaret, were entrusted to their aunt, Mary Howard, Duchess of Richmond. The girls were educated by John Foxe, who taught them Greek and Latin and had them compose poetry. He equated Jane's learning with that of the most learned men of her times. She was well educated but perhaps not the most clever of women when it came to understanding political machinations.
About this time the Countess of Surrey faded out of her children's lives by remarrying. Her husband was Thomas Staynings, a country gentleman. After Thomas Howard had succeeded his grandfather it was suggested to Bishop Gardiner that Lady Surrey should have the ordering of her daughters, Jane and Margaret Howard, but they stayed on at Kenninghall. A more important duty fell to the Countess in Dec 1557 when she acted as chief mourner at the funeral of her sister-in-law, the Duchess of Richmond. Thus she discharged her debt to the woman who for five difficult years had acted as foster-mother to her own children.
Jane went to court in 1558/9. Around 1563, she married Charles Neville, 6th E. of Westmoreland. They had four daughters, Margaret, Anne, Catherine and Eleanor, and a son, Thomas.
In 1569 Westmoreland, Thomas Percy, 7° Earl of Northumberland, and the earls of Cumberland and Derby plotted a rebellion to rescue Mary Queen of Scots, marry her to Jane's brother, Thomas Howard, 4th Duke of Norfolk, and restore Catholicism to England. When Norfolk was arrested, he advised the earls to abandon their plans, but in a meeting between Northumberland and Westmoreland at Brancepeth it was Lady Westmoreland who persuaded the two earls to take up arms.
Of her brother's defection she is said to have remarked, "What a simple man the Duke is to begin a matter and not go through with it". To the earls, who were considering flight or submission to the Queen, she said, "We and our country were shamed forever, that now in the end we should seek holes to creep into".
She goaded them until, on 14 Nov 1569, they began the first uprising England had seen since 1554, and Jane had more to do with raising the troops than her husband did. Sir George Bowes records, in a letter of 15 Nov 1569, that when Markenfield, Reed, and other rebels left the Earl she 'braste owte agaynste them with great curses, as well for their unhappye counselling as nowe, there cowerd flyghte'. At Brancepeth Lady Westmorland swayed the waverers, when it seemed they might once more depart to their houses, and in tears harangued them: 'We and our country were shamed for ever, that now in the end we should seek holes to creep into'. They marshaled their army and took the field with the avowed object of restoring the religion of their ancestors. Lady Northumberland and Lady Westmoreland were with the troops when they took the city of Durham and sacked the cathedral there. Queen Mary's removal to Coventry and the lack of support they found as they moved slowly southeast forced them to turn back at Tadcaster and begin a rapid retreat. From Naworth Castle, Westmoreland slipped across the border into Scotland, taking refuge there until he could escape to the Netherlands.
Lord Westmoreland found protection and concealment for a long time at Fernyhurst Castle, Lord Kerr's house in Rosburghshire, but meanwhile the Earl's cousin Robert Constable, was hired by Sir Ralph Sadler to endeavour to track the unfortunate nobleman, and, under the guise of friendship, to betray him. Constable's correspondence appears among the Sadler State Papers - an infamous memorial of treachery and baseness.
Westmoreland wept for his hard condition, but saw little hope in begging for mercy. Instead, he asked Constable to give the Countess a ring as a token, apologizing for the grief he had caused her and their children. He hoped that the Countess might send his "fairest gelding" and one of her best jewels to the Lord and Lady of Fernyhurst as compensation for the hospitality they had extended and also dispatch the ciphers once in his keeping.
After checking first with Sadler, Constable ventured off to Brancepeth to deliver his messages. Gaining an audience with the Countess on the evening of 14 Feb, Constable found her "passing joyful" to receive word from her husband. Obviously impressed by her, Constable reported that "for ripeness of wit, readiness of memory, and plain and pithy utterance of her words, I have talked with many, but never with her like". She sent with him a diamond ring and several other pieces of jewelry for her husband and his hosts. The ciphers, however, had been buried by a servant now absent and could not immediately be retrieved. Constable then returned to Scotland, first explaining to Sadler his hope that "a golden hook" might persuade Fernyhurst to betray his guests.
Lady Westmoreland remained in England and wrote to Queen Elizabeth for leave to come to court. In part, she wrote: "Innocency and the great desire I have had to do my humble duty to her Highness... emboldeneth me to continue this my suit". Her request was denied. She was sent to Kenninghall, Norfolk and held there, a virtual prisoner, for the rest of her life, although she was paid a pension of £200 during her husband's exile, increased to £300 after his attainder.
She was buried at Kenninghall on 30 Jun 1593.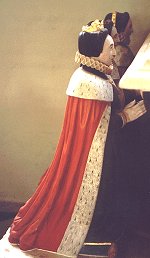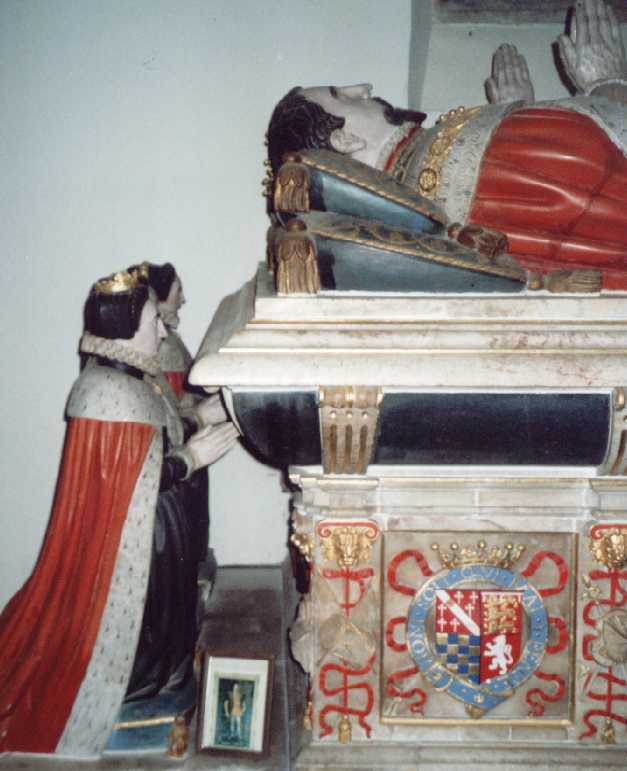 The tomb of Henry Howard, Earl of Surrey, and his wife Frances at Framlimgham Church
At the head end are three girls, Jane who wears a coronet who became Countess of Westmoreland, in the center is Catherine who married Henry, Lord Berkeley and next to the wall is Margaret who married Lord Scrope of Bolton.
| | |
| --- | --- |
| to Bios Page | to Family Page |
| to Peerage Page | to Home Page |