Thomas HOWARD
(1st V. Bindon)
Born: ABT 1520
Acceded: 13 Jan 1559
Died: 28 Jan 1582/3
Buried: 2 Apr 1582, Marnhull, Dorset, England
Father: Thomas HOWARD (3° D. Norfolk)
Mother: Elizabeth STAFFORD (D. Norfolk)
Married 1: Elizabeth MARNEY ABT 1526
Children:
1. Henry HOWARD (2º V. Bindon)
2. Thomas HOWARD (3º V. Bindon)
3. Francis HOWARD
4. Giles HOWARD
5. Grace HOWARD
Married 2: Gertrude LYTE (V. Bindon) (d. BEF 1576 - bur. Marnhull, Dorset) (dau. of William Lyte of Lillesdon, Somerset and Dorothy Kelloway) AFT 1565
Children:
7. Anne HOWARD
Married 3: Mabel BURTON (V. Bindon) (b. 1540, Marnhull, Dorset - d. 1580) (dau. of Nicholas Burton of Carshalton, Surrey) 7 Jun 1576, Carshalton, Surrey
Children:
8. Frances HOWARD (C. Hertford / D. Lennox)
Married 4: Margaret MANNING (V. Bindon) (bapt. 30 May 1559 Down, Kent - d. 14 Dec 1635 / 1643 - bur. Maiden Bradley, Wiltshire) (dau. of Henry Manning of Greenwich and Catherine Kirkener) (m.2 Sir Edmund Ludlow) (See her Biography)
---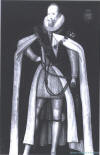 Thomas Howard, first Viscount Howard of Bindon
attributed to Robert Peake
---
The Complete Peerage vol.VI,pp.583-584. English peer and politician. He was the youngest son of Thomas Howard, 3rd Duke of Norfolk and Elizabeth Stafford. He served as Custos Rotulorum of Dorset and Vice-Admiral of Dorset, with the duty to put down piracy.
In Apr 1525, Thomas Howard, Duke of Norfolk, pursued the guardship of Elizabeth Marney, dau. of Lord John, although he found necessary to write to his enemy, the Cardinal Wolsey, to gain the favor of the King in this case. This letter was writing while Marney was on his deathbed, hardly in good taste, but haste and determination were essential in obtaining choice wardship to exploit. Norfolk obtained the wardship of Elizabeth Marney at the end of May of 1526 and purchased the right of her marriage from the master of the King's wards in Apr 1529. Elizabeth was espoused to the Duke`s second son, Thomas, on 14 May 1533, at Norfolk House in Lambeth. Lord Thomas had thirteen years. The couple had four children, but Thomas, created Viscount Bindon at her cousin Elizabeth's coronation, remained an obscure figure. Thomas Howard got nothing else by the terms of his father will.
In his earlier years he was one of several boys brought in by Catherine Parr as a companion to share the schooling and sport of the young Prince Edward.
In Dec 1546 Norfolk and his son Henry, Earl of Surrey, were charged with treason. Surrey was executed. Lord Thomas Howard was also arrested, but he was released shortly after Surrey's execution. King Henry VIII died the day before the execution of Norfolk could be carried out. Young Thomas was given a general pardon and restored to the rank of Baron in April that year , and the rest of the Howard family, including the Duke half-brother, William, were untouched by the family's crimes. In Apr 1551 Thomas was allowed to visit his father in the Tower. Although the conversation was held in the presence of John Markham, Lieutenant of the Tower, such a meeting between a traitor and his son was very unusual.
He had eight children by three wives. Henry, Thomas, Francis, Giles and Grace by Elizabeth Marney; Charles and Anne by Gertrude Lyte; ans Frances by Mabel Burton. By an Act of Parliament in 1540 relating to the partition of Lord Marney's estates Colquite went to Thomas Howard and his wife and another Act of 1547 laid down that Thomas Howard, one of Viscount Bindon's sons, should enjoy Colquite for life on his father's death.
He was also the cousin of Elizabeth I who gave him the title of Viscount Bindon when she came to the throne, taking the title from Bindon Abbey in Dorset, many of whose former lands he held. Two years after the award of his title, the Crown granted additional support to Saint Martin's church. The Manor of West Lulworth was his home.
It is said that Lord Bindon may have turned a blind eye to the activities of his good friend Sir Richard Rogers of Bryanston who was a very great landowner and promoter of piracy. He also lived nearby at Lulworth. The coastline in this part of Dorset is ideal for smuggling and it was in Rogers's best interest to cultivate good relations with Howard. After censure of Roger's activities from he high level, Howard could no longer evade his duties.
He became a Commissioner in Dorset for the searching of Jesuit and seminary priests and made the first search of importance in the county when he sent his brother in law, James Bosgrove, to London for examination. The move to abolish Catholicism was to see the execution of his nephew, the Duke of Norfolk conspired to marry Mary, Queen of Scots, however Howard's loyalty to the Crown was never called to question .
An attempt was made to sell inter alia the manor of Colquite according to the terms of an Act of 1575 relating to the debts of Viscount Bindon and his son Henry, but a sufficient price could not be raised. Consequently after Thomas, Viscount Bindon's death in 1582 Colquite went to his son Thomas Howard according to the Act of 1547. Thomas' elder brother Henry succeeded to the title and at least as early as 1583 Thomas Howard agreed to convey to his brother the manor of Colquite. On 28 Mar 1587 he leased it to Henry, lord Howard, for two lives, and on the following day ceded the manor to his brother for 89 years. Henry agreed to stand seized of Colquite to the use of his son-in-law Arthur Gorges in 1589. Before his death in 1590 Lord Howard had assigned his interest to his son-in-law, who, after an earlier assignment, mortgaged the manor of Colquite to Thomas Harris, sergeant-at-law in 1594. This became absolute the same year. Thomas Harris made a settlement of the manor in 1597 on his son's marriage and in 1603 conveyed it outright to his son Edward Harris.
Edward Harris conveyed Colquite to Sir Henry Spiller in 1618 for the consideration of £2000 paid by Thomas Howard, Earl of Suffolk, the kinsman and heir of Thomas, the last Viscount Bindon who died in 1610.
The will of Thomas Lord Howard, Viscount Howard of Bindon says:
"... my body to be buried at Marnhull, Dorset ... sundry real estate etc., £2000 for the better preferment and advancement of Frances Howard my daughter, my loving sister in law Mary Fowle, wife unto Robert Fowle, gentleman, shall have the government and education of my said daughter until her marriage, etc., or if the said Mary shall happen to die or depart out of the Realm of England I will the government etc. to my loving brother in law Richard Burton of Carshalton in Surry, esq. or to mine executors until the time of her marriage unless she be preferred to her Majesty in service. And I wholly refer her advancement in marriage unto her Majesty. If it fortune my said daughter to die before she shall be married then £1000 of the said £2000 I will and bequeath unto my wife, or if she be dead to Charles Lite als Howard my son, at his full age, or if he die etc. to Gyles Howard one other of my sons. The other £1000 I give to the said Charles Lite als Howard, to be paid him at age of one and twenty, or after if the said Frances die before she shall be married.

A tomb to be made at Marnhull in Dorset whereas I have appointed, by God's permission, my burial for me, Gartrude and Mabel, my late wives, and the Lady Margaret my now wife. The right Hon. William, Lord Burghley, Lord High Treasurer of England, the Right Hon. the Earl of Sussex, Sir Christopher Hatton Knight, her Majesty's Vice Chamberlain, Sir Edward Horsey, knight, captain of the Isle of Wight, the said Richard Burton of Carshalton Esq., Bartilmewe Clerk, Dean of the Arches, Henry Manninge of Greenwich and Francis Clerk, brother of the said Bartilmewe, to be executors, humbly praying these honorable personages to take under their honorable protections and defence my true and loving wife Lady Margaret and my said daughter, that their weakness by their honorable strength may be aided, protected and defended from wrongs and injuries as my special trust i s . I give as a token of my good will unto the said Lord Treasurer two of my best horses, two of my best geldings and two of my best mares which I have at the hour of my death and to the said Earl of Sussex two the best horses next them and four the best mares next them, and to the said Sir Christopher Hatton two of my best horses next them and two of my best mares next them (and to each of the other executors named two geldings and two mares)...".
Proved 14 Feb 1582/3 by Richard Burton and Harry Manning, father of his last wife, Margaret. (Ref. : P . C.C. - Rowe, 13)