Henry CHENEY
(1st B. Cheney of Toddington)
Born: 1540, Shurland House, Eastchurch, Kent, England
Acceded: 1578
Died: 1587, Toddington
Father: Thomas CHENEY (Sir Lord Warden of the Cinque Ports)
Mother: Anne BROUGHTON
Married: Jane WENTWORTH (B. Cheney of Toddington) ABT 1565, Nettlestead, Suffolk, England
---
The details in this biography come from the History of Parliament, a biographical dictionary of Members of the House of Commons.
Born 31 May 1540, 2nd but 1st surv. son of Sir Thomas Cheyney by his second wife Anne, dau. and coheir of Sir John Broughton of Toddington. Educ. G. Inn 1563. Married Jane, dau. of Thomas Wentworth, 1st Lord Wentworth, by whom he had one dau., d.v.p. Succeeded his father to Kent estates 1558, his mother to Beds. estates 1562. Kntd. 1563; cr. Lord Cheyney 8 May 1572. J.p.q. Kent 1562-c.74, j.p. Beds. 1564, q. by 1574; sheriff, Beds. and Bucks. 1565-6; commr. Kent subsidy assessment 1565, musters, Beds. 1570, for trial of Mary Stuart 1586, to raise 200 men from Beds. and Bucks. for service in the Netherlands 1586.
Inherited most of his father's property, and achieved high office, but died without having children. Henry Cheney was knighted at Toddington by Queen Elizabeth in 1563. He was knight of the Shire and a Justice for Kent in 1562, and for Bedfordshire in 1572. He became Sheriff of Kent in 1574 having been knighted by Elizabeth. In 1578 he was named Lord Cheney of Toddington. He was one of the judges at the trial of Mary Queen of Scots in 1587. After his death in 1587 his widow continued to live at the Manor for twenty-seven years, after which the estate passed to her great-nephew Thomas Wentworth, later Earl of Cleveland, in 1626.
He was an extravagant and pompous man. He was a spendthrift who dissipated all of his inherited wealth, dying a near pauper. He sold Shurland which had been the family's ancestral home for three centuries and built a magnificent mansion at Toddington. It was in 1560 that Lord Henry Cheney built the Manor of Toddington on which today's house is based. So palatial was it that it was dubbed Cheney's Palace. The frontage measured 210ft from north to south, there was a chapel and an indoor tennis court. Four turrets enclosed the building - only one remains today. He entertained Queen Elizabeth lavishly in 1563 and 1573. Henry was known as "the extravagant Lord Cheney"
Cheney was elected knight of the shire for his late father's county in 1563, and for his late mother's county in 1572. He was appointed to the succession committee on 31 Oct 1566, the only time his name appears in the extant records of the Commons before his elevation to the peerage his father had been promised yet never achieved. Cheney much preferred his mother's Bedfordshire estate to those of his father in Kent, and he spent vast sums in building at Toddington the mansion where he entertained the Queen in 1563 and 1576. After her first visit he was knighted, and no doubt his lavish hospitality was still in Elizabeth's mind when the question of his peerage arose some years later. A seventeenth-century inventory at Toddington commemorates her visits in the names of some of the rooms. To finance his extravagance Cheney sold one Kent estate after another between 1564 and 1567 until in 1574 a note on the Kent commission of the peace described him as 'not resident'. The Shurland estate and his Minster property on the Isle of Sheppey were so badly decayed that the Privy Council became alarmed at the depopulation of a strategically important coastal district. Negotiations began for the Crown to take over Shurland, and grant Cheney lands elsewhere in exchange. Typically, Elizabeth haggled over terms, and the arrangement was still not made by Oct 1578, when Cheney asked Burghley to expedite matters. A crown lease of Shurland, granted in 1580, contained a clause binding the new tenant to accommodate men-at-arms. The last recorded sale of Cheney's estates was in 1581, when he sold the chapel where his ancestors were buried at Minster, together with neighbouring estates, to Sir Humphrey Gilbert. Thenceforth, except for his participation in the trial of Mary Stuart, his activities were for the most part, or perhaps entirely, confined to Bedfordshire. It is not even clear whether, having obtained his peerage, he visited the court; if he did it was seldom. Of his religious views little is known. He was the ward for a few years of his puritan uncle the 2nd Earl of Bedford, and his wife was a well known patron of puritan preachers, but Cheney's own classification among those Bedfordshire j.p.s who were 'earnest' in religion in 1564 must be taken as reflecting no more than his approval of the Elizabethan church settlement.
He died 3 Sep 1587, and was buried at Toddington, where his widow erected a monument. In the Church of St. George, a noble cruciform structure, chiefly in the Early English and Perpendicular styles, there´s an alabaster tomb, now much mutilated and partly of brick, with an effigy in rich armour of Henry Cheney; and one more tomb bears the effigy of his wife Jane Wentworth, 1614, attired in wimple and mantle. Another tomb the sides of which are adorned with shields of arms, is inscribed to Anne Broughton, d. 1561, wife of Sir Thomas Cheney and mother of Henry.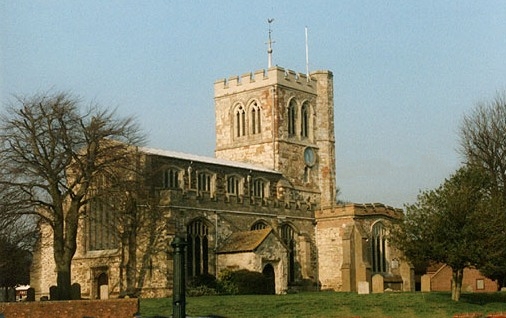 The church of St. George
| | |
| --- | --- |
| to Bios Page | to Family Page |
| to Peerage Page | to Home Page |