Sir George DELVES
Born:
Died: 1604
Buried: 24 Sep 1604, St. Dunstan-in-the-West, London, Middlessex, England
Father: Henry DELVES (Sir Knight)
Mother: Cecily BROKE
Married 1: Christian FITZWILLIAM (dau. of Sir William Fitzwilliam and Anne Sapcote) (w. of Sir Richard Wingfield)
Children:
1. Son DELVES
2. Dau. DELVES
Married 2: Anne ISLEY
Children:
3. Son DELVES
4. Dau. DELVES
5. Son DELVES
6. Dau. DELVES
7. Dau. DELVES
---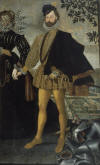 George Delves and a Female Companion
British School
His first wife had died by 1583, when he remarried. It is possible that she is portrayed here, sombrely dressed, her face hidden by a branch of myrtle (symbolising everlasting love), as a memento of her death. His unrewarded hopes of fame are suggested by the laurel (bay) tree to the right and by the inscriptions painted on the picture. At the top in Italian he proclaims that: "I value only love and fame".
The discarded armour and broken lance show that he has renounced military and court life for, as the last line of the English inscription states, they brought him "but woe and pain". The turreted house and intricate gardens and maze in the background have not been identified. They probably do not represent those at Doddington Hall, the Delves' family estate in Cheshire, but may be an imaginary garden of love.
---
The details in this biography come from the History of Parliament, a biographical dictionary of Members of the House of Commons.
Military commander, and member of the Honourable Corps of Gentlemen at Arms in the reign of Queen Elizabeth I.
Younger son of Sir Henry Delves, George Delves saw active service in Ireland, perhaps as early as 1557, captained a troop in 1561 and, together with Sir Henry Radcliffe and Sir Henry Stanley, reported on the state of that country in 1564. He acquired lands and a castle in Ireland, and seems to have spent much of his time there.
Delves's father or grandfather was steward to Henry Manners, 2nd Earl of Rutland, and the connexion continued, Delves himself conveying court gossip to Edward Manners, 3rd Earl of Rutland, and reporting on the events of the 1571 Parliament. In a letter from court in 1571 Delves mentions Isabel Holcroft, dau. of Sir Thomas Holcroft and Julianne Jennings, the Earl's future wife, whom he may have been courting on Rutland's behalf. Delves's return for East Retford was doubtless due to the Earl, the most important local magnate. On 13 Mar 1576 Delves served on the committee for the bill against the malpractices of goldsmiths.
Between the 1st and the 3 May 1571, Delves was one of the defenders in a tournament before the Queen at which one of the challengers was the Earl of Oxford. On 24 Jun, Delves wrote to the Earl of Rutland "There is no man of life and agility in every respect in the Court but the Earl of Oxford".
Delves married Christian Fitzwilliam, a daughter of Sir William FitzWilliam, of Northamptonshire, the widow of Sir Richard Wingfield, who had died by Jun 1559. He thus became the step-father of Christian's sons Richard, later first Viscount Powerscourt, and John Wingfield.
In May 1578, Delves and Sir William Fitzwilliam were appointed by letters patent, with the support of Burghley and Sir Francis Walsingham, as alnagers and collectors of customs duties on the transport of 'New Draperies' which were being made by foreigners, a potentially profitable position which was to be held for seven years. In the event, they held their patent for a great deal longer, the actual work being done by deputies.
The grant was particularly unpopular in Norwich, a principal centre of alien settlement, and as early as 1579 the Privy Council asked the two chief justices and the chief baron to inquire into the matter. Nevertheless, the grant was constantly renewed, and the controversy again reached a climax in 1602. By this time, however, Delves was no longer concerned, having apparently resigned his interest in 1595.
Together with Lancelot Bostock, Delves held for two years the grant of income from penalties exacted under the statute against non-resident clergy.
On 8 Mar 1582/83, Delves married secondly Anne Esley, or Isley, of Westminster. She brought to the marriage an estate at Bredgar, Kent. Late in life, he quarrelled with a neighbour, Sir John Roper, whose son, during the controversy, expressed a hope that Delves would shortly be put off the commission of the peace.
On one of his visits to Ireland, on 4 Apr 15911, he was knighted by his brother-in-law Sir William Fitzwilliam, the lord deputy. He was closely associated with the lord deputy's son, likewise named William Fitzwilliam.
In 1602, he was one of the justices for the Quarter Sessions of Kent held at Maidstone.
Delves died in 1604 and on 24 Sept. was buried in London, in St. Dunstan-in-the-West.
Sources:
https://www.historyofparliamentonline.org/volume/1558-1603/member/delves-george-1604