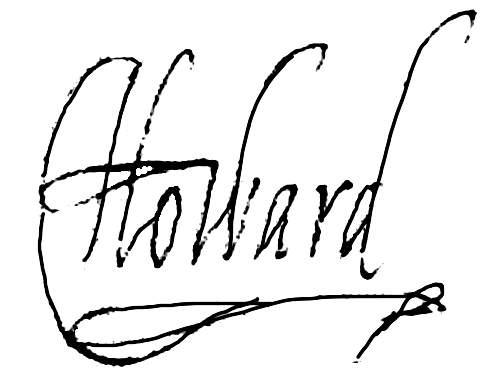 Charles HOWARD
(1st E. Nottingham)
Born: 1536
Acceded: 22 Oct 1597
Died: 14 Dec 1624, Haling House near Croydon, Surrey, England
Notes: Knight of the Garter. The Complete Peerage vol.V,p.10.
Father: William HOWARD (1ş B. Howard of Effingham)
Mother: Margaret GAMAGE (B. Howard of Effingham)
Married 1: Catherine CAREY (C. Nottingham) Jul 1563
Children:
1. Frances HOWARD (C. Kildare/B. Cobham)
2. William HOWARD (3° B. Howard of Effingham)
3. Charles HOWARD (2° E. Nottingham)
5. Elizabeth HOWARD (C. Carrick)
Married 2: Margaret STUART (C. Nottingham) Sep 1603
Children:
6. Charles HOWARD (3° E. Nottingham)
---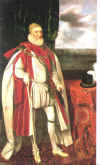 ---
Second Lord Howard of Effingham and first Earl of Nottingham. Lord High Admiral of England, is chiefly remembered as commander-in-chief of the English fleet against the Spanish Armada in 1588. Son of Sir William Howard, first Baron Howard of Effingham, and his first wife, Margaret Gamage. His father, first son of the second marriage of Thomas Howard, second Duke of Norfolk, was Lord Admiral before him under the Catholic Queen Mary.
Sir Charles is believed to have served at sea under the command of his father during the reign of Mary. On the accession of her half sister, Elizabeth I, Sir Charles stepped at once into a prominent position at court. His high birth and connections, the Queen was his first cousin once removed.
Catherine Carey, countess of Nottingham

The Earl of Nottingham

by Rowland Lockley

In 1559 Sir Charles was sent as Ambassador to France to congratulate Francois II, on his accession. In the Parliament of 1562 he represented County Surrey, and in 1569 was named General of the Horse, under the Earl of Warwick, in the suppression of a Catholic rebellion in the north. Warwick's army assist Sussex and Clinton in the North.

In Jul 1563, any hope of becoming a royal consort having withered, Howard had taken a wife of less elevated station. But barring the Queen herself, who attended as a spectator, the age could scarcely have provided a more promising bride than Catherine Carey, eldest daughter of Lord Hunsdon. She was probably several years younger than Howard, but she was already a maid of honor and a close personal attendant of the Queen. More important, she was Elizabeth's closest female relative of her own generation on the safely non-royal side and an intimate friend. After marriage she became one of the ladies of the privy chamber, succeeding in I572 to the office of first lady of the chamber, an office as exalted as any that normally could be given to a female subject. Besides being one of her mistress's constant personal attendants, she acted as mistress of the robes, supervising the Queen's enormous and expensive wardrobe and keeping watch ayer the treasures taken out of the jewel house for the Queen's use. It was Lady Howard who received and accounted for the jewels, chains, bracelets, gold toothpicks, forks of agate and gold- whatever could be considered jewelry or plate-that the queen received from her courtiers at New Year's. She filled the office creditably for fourteen years, during which time her husband was rising from a casually employed court gallant to one of the handful of principal officers and the primary defender of his country's security.
There is nothing to suggest that Howard's wife was in any direct way responsible for his success, but she certainly would have been able to keep his name before the Queen and remind her, as occasion allowed, of his unflagging leal and devotion. Nothing much is ever said of Lady Howard's beauty or of the wealth she brought to the marriage, but she was a wife of irreproachable conduct, exemplary loyalty, and genuine devotion. She lived quietly and, though bound up for many years in the affairs of the royal household, was seldom mentioned by the vendors of gossip. There is, in fact, no reason to think that Howard and his wife were not entirely compatible; certainly neither of them indulged in much of the extramarital adventure common at a sophisticated court. But if the marriage was solidly founded in mutual esteem and high expectation, it had but a slender financial base. Lady Howard would llave been given some kind of dowry - a sum like the twelve hundred marks given with Howard's elder sister, Lady Douglas Sheffield, would not have been unreasonable - but the exact amount is unknown. Howard himself got £100 ayear from his father and little more than £20 from his keepership, beyond which there was precious little to support the match.
Upon the death of his father, he succeeded as second Lord Howard of Effingham. When he inherited his title he also inherited a collection of lands worth probably about £300 a year, including the manors of Blechingley, Effingham, Kingswood Liberty, Little Bookham, West Humble, Billeshurst, and Hackstal -all in Surrey- Barnstaple Priory in Devonshire, Wisshanger in Gloucestershire, and Appledram, Eastbrooke, Southwick, and perhaps Barnham in Sussex.
Howard acted as deputy chamberlain in 1574 and 1575 for his cousin the Earl of Sussex, whose health was so poor that he found it necessary to be away from Court for months at a time. His primary responsibility as deputy must have been the co-ordination of the remarkable progress that occupied the court through the summer of 1574: after visiting Theobalds at the end of May, the court continued north and west to Northamptonshire, Warwickshire, and Staffordshire, then south into Worcester and Oxfordshire, reaching Woodstock in Sep. This progress was the occasion of Leicester's elaborate entertainment at Kenilworth Castle, which lasted for more than two weeks. While Elizabeth remained at Kenilworth much of the court personnel was housed in Warwick, an arrangement which complicated the responsibility of the Chamberlain, who had to work with local officers in supplying housing, transportation, and messenger and food services. Sussex apparently returned to court at the end of the summer, but Howard continued to act as chamberlam through most of the next year.
Lord Howard received new evidence of the Queen's esteem when on 3 Apr 1575, he was elected to the companionship of the Order of the Garter, filling the vacancy created by the execution of his cousin the Duke of Norfolk. He was installed on May 8 in ceremonies at Windsor conducted by his father-in-Law, Lord Hunsdon, and Sir Henry Sidney. Howard was the nineteenth of the Queen's subjects so honored since her accession; of that number, eleven were noblemen of the rank of earl or higher who became companions more or less in due course if they remained on good terms with the Crown. Of the remainder, some seem to have been elected as a mark of the Queen's particular favor, others to help her satisfy the needs of her preferment-hungry court. Howard's elevation apparently came from a combination of these factors. He had not yet performed any signal service of valor for which the Garter might be a suitable reward, but he was the heir of a great house and by now a familiar face at court. No doubt he had pressed for the rewards that any nobleman needed to maintain his dignity and increase his prestige; the election might have been a mark of honor to ease the waiting for a more substantial appointment. Or if it had seemed by the time of the Garter election that Sussex would be able to return to Court as chamberlain, Howard's appointment might have been designed to compensate him for the loss.
In May 1585, he was appointed Lord Admiral of England.
He participated in the trial of Mary, Queen of Scots, and it appears that Queen Elizabeth was persuaded to sign Mary's death warrant at his urging.
His adult experience before his appointment as Lord High Admiral in 1585, while extending to brief periods of command of a squadron of ships and of soldiers, was mainly as courtier, diplomat, and trusted servant to Elizabeth.
His portrait in later years shows a grave face with a strong nose. He comes down as an elegant, handsome man, not sufficiently dashing perhaps to win Elizabeth's heart, but cautious, steady, strong, and a good Protestant.
In Dec 1587, with the threat of a Spanish invasion, he was commissioned as 'lieutenant-general and commander-in-chief of the navy and army prepared to the seas against Spain', a mark of Elizabeth's great confidence in him. The confidence was not misplaced; he was diligent in examining every vessel in his fleet, "I have been aboard of every ship that goeth out with me, and in any place where any man may creep", and in seeing to the comfort and victualing of his crew, even to the extent of dipping into his own pocket, which was never overfull. That the organization for the supply of ammunition and the men's wages broke down later is no reflection on Howard, but on the unprecedented scale of the 1588 mobilization; no Englishman had experience of such a vast fleet and there was no administrative backing to cope with its demands. Howard constantly risked Elizabeth's displeasure on behalf of the men who fought for her.
Charles Howard, 1st Earl of Nottingham
Unknown artist
oil on canvas, (1602)


BEF the Armada reached the Channel Howard had been convinced by his second- in- command, Sir Francis Drake, that the Spaniards could best be defeated on their coast, but Elizabeth's hesitation and then contrary winds forced him into a defensive posture, which was probably more in keeping with his character. During the progress of the Spanish fleet up the Channel the English refused to play into the enemy's hands by engaging in a close melee where the seasoned. Disciplined soldiers aboard the Spanish ships could have decided the contest as in a land fight; they held off and played 'long bowls'. This again suited Howard's temperament, but it is certain that his most experienced seaman commanders like Drake and Sir John Hawkins approved and probably suggested the policy. Howard's achievement should be assessed as a diplomatic and administrative one in keeping together such a band of disparate individualists as Drake, Hawkins, and Frobisher. For this, for his care of his men, and for the prudent tactics that resulted in the eventual failure of the Armada, Howard deserves recognition as one of England's most successful fleet admirals as well as her first commander-in-chief of a major fleet.

Unknown sitter, formerly known as

Charles Howard, 1st Earl of Nottingham
by Unknown artist
oil on canvas, feigned oval, circa 1625
Detail of The Somerset House Conference

Unknown artist
oil on canvas, 1604

After the Armada campaign Howard continued to serve as Lord High Admiral in major expeditions afloat. The following years found him occupied with the defense of the country and the administration of the navy. He organized the charity known as The Chest at Chatham, which was founded in 1590 'by the incitement, persuasion, approbation, and good liking of the lord admiral and of the principal officers of the navy".

In 1596 Sir Charles once again was called upon to battle Spain at sea, and once again was successful. Queen Elizabeth, however, was, after he wont, angry when he had the nerve to request that she pay the sailors their promised wages. She asserted that the men had paid themselves by plunder, and that she had received no benefit from the expedition! The following year Sir Charles was created Earl of Nottingham.

In 1601 he led the forces that defeated the Essex´s rebellion. He held numerous important positions throughout his life, dying at the ripe old age of eighty eight.

His wife, Catherine, died in Feb 1602/3, and her friend the Queen feel into a great depression and died a few weeks later.

He did not retire until 1618 when a commission investigating naval administration reported adversely. Although always conscientious, Howard had held his office too long as he was, at the age of 82, not vigorous enough to check the abuses flourishing under him.

The Somerset House Conference, 1604

(Juan de Velasco Frias; Juan de Tassis, Count of Villa Mediana; Alessandro Robida; Charles de Ligne, Count of Aremberg; Jean Richardot; Louis Vereyken; Thomas Sackville, Earl of Dorset; Charles Howard, Earl of Nottingham, Henry Howard, Earl of Northampton; Charles Blount, Earl of Devonshire and Robert Cecil, Earl of Salisbury)
Unknown artist
oil on canvas
| | |
| --- | --- |
| to Bios Page | to Family Page |
| to Peerage Page | to Home Page |