Sir Thomas GRESHAM, Knight
Born: ABT 1518, Milk Lane, London, England
Died: 21 Nov 1579
Buried: St. Helen's Bishopgate, London, England
Father: Richard GRESHAM (Sir Lord Mayor of London)
Mother: Audrey LYNN
Married: Anne FERNELEY (b. ABT 1520 - d. 23 Nov 1596) (dau. of William Ferneley and Agnes Daundy) (w. of William Reade) ABT 1544
Children:
1. Richard GRESHAM (b. Sep 1544 - d. 1564)
Associated with: ¿?
Children:
2. Anne GRESHAM (b.1549 - d. 1594) (m. Nathaniel Bacon)
---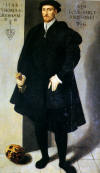 Sir Thomas Gresham
Flemish School, 1544
The Mercers' Company
---
Born probably in 1518, the son of Sir Richard Gresham by his first wife, Audrey Lynn. The name Gresham means 'grass-farm', and the family took their name from the village of Gresham in Norfolk. Richard Gresham was admitted a Mercer in 1507 and became Sheriff of London and Middlesex in 1531/1532. He was knighted in 1531. He attended in the Tower 19 May 1536, at the execution of Anne Boleyn. He was Lord Mayor of London in 1537. Cardinal Wolsey called him his "fast-friend" on his death bed. Sir Richard provided the money for the Cardinal's funeral. Through his trade he supplied Henry VIII with arras, velvets, and satins. Most of Sir Richard's trade was with the Low Countries, the most significant area for English overseas trade for much of the sixteenth century, and he soon amassed a sizeable fortune.
Thomas was educated at Gonville and Caius College, Cambridge, where he had taken his B.A. by the time he was 16 years of age. He seems then to have gone into business under the instruction of his uncle, John. In 1543 he was elected a Freeman of the Mercers' Company and he was already being employed by the Crown to buy gunpowder. It is possible that he was lending the Crown money, or else providing money for the Crown by other means, for in 1544-5 some foreign mercenaries were raid with funds which had been received from Thomas Gresham.
Sir Thomas Gresham

by an unknown artist, c.1550

(Private Collection)

In 1544 he married Anne Ferneley, dau. of William Ferneley of West Criting, Suffolk (b. 1490 - d. 1556) and Agnes Daundy (b. ABT 1480 - d. Jun 1572). She was the aunt by marriage of Francis Bacon. Anne had married first, in 1536, to London merchant William Read (Reade; Rede) (b. 1505 - d. 1543), by whom she had two sons, Richard and William (b. 1538 - d. 1621). She was a milliner and was making caps for Queen Elizabeth as late as 1569.

In 1549 Sir Richard Gresham died, and Thomas and his wife moved from his father's house into a house in Lombard Street, 'at the sign of the Grass- barrer', which was the emblem of the Gresham family. Thomas resided primarily in Antwerp and continued to do so until 1551.

In 1551/2 Sir William Daunsell, the royal agent or King Edward VI's merchant, was relieved of his post for having 'done his highness marvellous ill service'. Thomas Gresham replaced him and went to live in Antwerp, the centre of the international money market. He lived in the house of Gaspar Schetz (whose father had named his three sons after the Magi), the chief financial agent of Carlos V. He had two London agents, John Elliot and Richard Candeler, and many agents all over Europe. His factor at Antwerp was Richard Clough, a very astute man in negotiating loans, smuggling arms, money and foreign goods from the Netherlands into England. Clough was in the habit of writing immensely long letters, filled with detailed accounts of current events in the Netherlands, funerals, pageants, etc., but also containing very valuable political information, which Gresham used to pass on to Cecil. Gresham appreciated the value of Clough and would praise him generously, but he warned Cecil that Clough was 'very long and tedious in his writing'.
The Crown's financial difficulties were very great, brought about by wars at the end of Henry VIII's reign, by Somerset's extravagance, and to a very great extent by the inflation (rise in prices and therefore the fall in the purchasing power of money) which marked the sixteenth century. In England, by the middle of the century and for some time beyond, there was no class of specialized financiers or any bankers: it was the rich merchants who gave credit and discounted bills, but their capacity was limited. It was therefore frequently necessary for the Crown to seek for loans in foreign countries, which on the whole meant in Antwerp. By 1552 the interest on the Crown's debts was £40,000 and the foreign capitalists had succeeded in bringing down the rate of exchange to 16 Flemish shillings to the £l sterling.
Gresham set about his work with a will, but in fact he had not any revolutionary ideas on how to help the Crown. He advised the Council to set aside £1,300 per week and to send this sum secretly to him in Antwerp for the redemption of debt. He would use this money to buy up small sums of sterling every day in such a way that 'it shall not be perceived nor it shall be no occasion to make the Exchange fall' - in fact, the steady demand would make it rise. He also suggested that the fleet of the Merchant Adventurers should be allowed to set sail only if the owners lent money to the King at one rate of exchange in Antwerp which could be repaid in London at another rate. The difference in the rates of exchange would operate to the King's advantage. This was a typical example of his harsh and high-handed measures - no doubt because he himself got a 'rake off' from the profits made by the Crown. Further, he advised that the Crown by the use of its prerogative should create a monopoly for itself in lead, by forbidding anyone except the Crown to export lead. The greatly enhanced price would benefit the Crown considerably.
Not much came of this so-called 'design', mainly because the Council gave up remitting £1,300 per week - much the most sensible part of the 'design' - after eight weeks, and also rejected the proposal to create a monopoly in lead, because it would make the government very unpopular. Nevertheless, within two years Gresham claimed that he had succeeded in raising the rate of exchange at Antwerp from 16 shillings to 22 shillings and was discharging the Crown's debts at this figure. He achieved this partly by giving huge banquets to the creditors, but chiefly by insisting to the Crown that it must be punctual in repaying its debts. He wrote to Northumberland:
'It shall be no small grief unto me that in my time, being His Majesty's agent, any merchant strangers should be torced to forbear their money against their wills... To be plain with Your Grace in this matter, according to my bounden duty, verily if there be not some other ways taken for the payment of His Majesty's debts, but to force men from time to time to prolong it; I say to you, the end thereof shall neither be honourable nor profitable to His Highness'.
Gresham and Edward VI were always on good terms. The King once gave him property worth £100 p.a., saying, 'You shall know that you have served a king', and he also gave him lands from time to time, such as Walsingham Manor. Gresham once gave Edward VI a pair of long Spanish silk stockings, 'a great present', said Stow, '... for Henry VIII did wear only cloth hose or hose cut out of ell-broad taffeta'. In 1556, he gave Mary 'a bottle of fine Holland (gin) in a case of black leather'.
On the accession of Mary and the execution of his friend Northumberland, Gresham was relieved of his office. William Dauntsey and Dansell were reinstated, but Sir John Leigh spoke up for Gresham, and as the Queen's business in Antwerp was being badly handled - all Gresham's work in reducing the rate of interest was undone - Gresham was restored and went back to Antwerp. His chief problem now was how to get the money out of the Netherlands and into England, for a ban had been put on the export of bullion by Carlos V. To begin with Gresham tried to smuggle it out in bales of pepper, but there was a limit to the amount of pepper which any one country could require and this method gave rise to suspicions. Gresham then used armour, packing the bullion in 1,000 demilancers' harness. How valuable this trade with England was becoming is shown by the panic into which the Flemish merchants fell at the news of Wyatt's rebellion (1554). In that year Gresham succeeded in securing from the Emperor a licence and passport for exporting 500,000 crowns in bullion from Spain, with the proviso that 'I should convey this money with as much secrecy and as small bruit as I could achieve'.
For some reason or other, from 1556 to 1558, Gresham retired into private life, but he was reinstated in Antwerp just before Mary died. Gresham hurried off to offer his services to Elizabeth - in itself a proof of how lucrative a business all this was for Gresham himself. Elizabeth received him cordially and promised as much land as any other monarch had given him and even more. Perhaps Gresham was a financier after Elizabeth's own heart - cautious, secret and above all successful. The position was very bad: debt was £226,910, whereas revenue was only £200,000: the needs of defence were heavy and expensive: what Gresham had to do was to raise loans abroad as cheaply as he could. But he himself insisted that the right policy was to borrow as little abroad as possible, to restore the purity of the coinage and to enforce the strictest economy. It is difficult to quarrel with this judgement. It is less easy to approve of his reiterated suggestion to restrict the sailing of the Merchant Adventurers' fleet, unless they agreed to what in fact was a forced loan.

During this period (1559-60) he worked hand in glove with Cecil- his letters were full of important political information. But Gresham's difficulties were very great. They were eased when Felipe II recalled his troops from the Netherlands to Spain and when Elizabeth made the Treaty of Edinburgh with the Scots and French. At once the rate of interest fell at Antwerp to 10%. In 1562 Elizabeth for political reasons backed the Huguenots: Gresham wrote, 'this pen can not write you' the bad effect on credit.

Sir Thomas Gresham

1565-70
by Mor

Oil on panel, 90 x 75,5 cm
Rijksmuseum, Amsterdam


Gresham had for some time urged that the coinage should be reformed. That the reform was undertaken was mainly his work. It was carried out under the supervision of Daniel Ulstätt, a patrician of the city of Augsburg and member of a merchant house there, who had settled in Antwerp for the trade between Venice, Augsburg,Antwerp and England. Elizabeth made a small profit out of the transaction.
In 1559 Gresham became temporary Ambassador to the Regent of the Netherlands. To adorn this office with proper dignity he was knighted. His letters to Cecil are full of political information of the highest value: he clearly foresaw the revolt of the Netherlands against Felipe II, and he was very successful in bribing the Spanish officials to provide him with the fullest information. The danger to England was very great. Military stores were sorely needed. Gresham found much difficulty in supplying them from the Netherlands. He urged the manufacture of gunpowder in England, but he also spread a rumour abroad in the Netherlands that England had 200 ships ready and well armed. In the event, he secured large quantities of ammuniton and exported them as 'velvets'. He also extracted 2,000 corselets out of the King of Spain's armoury at Malines. He was on the whole very successful in his efforts, but his financial transactions (out of which he made a pile for himself) and the secrecy of his correspondence with Cecil raised up many enemies against him who delated him to the Queen, but she knew when she was 'on to a good thing', and paid no attention to the accusations.
In 1560 Gresham had a fall from his horse and broke his leg. This seriously affected his health and he was lame for the rest of his life. He was called home the next year in order to help his recovery, but he was soon going back and forth between England and Antwerp, mainly in order to raise loans, and also sometimes on diplomatic missions.
When the government in 1568 seized the Spanish treasure, Gresham advised the Queen to have the treasure coined and put at the disposal of the merchants, from whom the government could borrow at low rates of interest. The advice was taken, and Gresham arranged the whole business.
The importance of Antwerp had for some time been declining, and Hamburg was taking its place as a mercantile centre. Gresham secretly supplied the Merchant Adventurers with money to keep two cloth fleets at Hamburg to strengthen Elizabeth's credit there. Between 1570 and 1574 Gresham was often writing to the government complaining of its dilatoriness in repaying the debts owed to English merchants. In 1574 he ceased to be the Queen's agent, as his health was bad and his leg was giving him much trouble.
Gresham does not seem to have incurred much personal risk in his loans: on the contrary, he made enormous profits for himself out of his work for the Crown, and it is clear that he was often very unscrupulous in his methods. The audit of 1574 (the last audit had been made eleven years before) showed that he had received in the interval £677,248.4s.3d. and had expended £659,099.2s.11/2d. After certain deductions and allowances had been adjusted, Gresham was found to owe the Crown £100,000, but he worked out the sum so as to put the government in his debt to the tune of £11,506.18s.01/4d. The commissioners disputed his claim. Gresham got hold of a duplicate copy of his accounts, added a footnote acknowledging his claim, went off to Kenilworth where the Queen was staying and got her sanction to his claim. Armed with this, he compelled the commissioners to sign the acknowledgement.
Ten years earlier (1564) Gresham's only son, Richard, had died. He therefore decided to use his immense wealth for the benefit of the public by building a bourse or Exchange. His father had originally suggested the scheme, and Clough had urged Gresham to build it in 1562. In 1564 Gresham offered to build it, if a site were provided. The Merchant Adventurers and Staplers put up the money for the site and in 1566 the foundation-stone was laid. Gresham employed a Flemish architect, one Henryke, who had a hand in some of the stone work at Burghley, which has since disappeared. The wood came from Battisford, near his own home at Ringshall in Suffolk. Clough saw to the exporting from Antwerp of most of the other materials. The building was ready for use in 1568. Two years later Queen Elizabeth visited the building and gave orders for it to be called the Royal Exchange. Gresham's building was destroyed by fire in 1666. Gresham also founded Gresham College in London, where free lectures were to be given (1575). This caused a quarrel with Cambridge University. He bequeathed Gresham House to the college on the death of his wife, but the plan was never very successful, although lectures are still given there (in a different building).
By that time, his relationship with hius wife, Anne, was acrimonious. They quarreled in particular over his tendency, after their son's death, to lavish money on charity.
In Jun 1569 Gresham was put in charge of Lady Mary Grey, sister of Lady Jane Grey, who had made an imprudent marriage with Thomas Keys, the sergeant porter. He hated the post and was continually asking to be relieved and he was replaced probably in 1573. One of the excuses he gave was that his wife wished to go to Norfolk to visit her mother, who was ninety and not likely to live much longer. Genealogies, however, tend to give Agnes (or Anne) Daundy's birthdate as 1496, making her closer to seventy than ninety, but that was still a very great age in those days.

In early Sep 1571, after the death of the Lady Mary's husband, she was moved to the Greshams' country house at Osterley in Middlesex. As her keepers, the Greshams went with her. By Jan, Sir Thomas's letters were begging that the Lady Mary be removed from his keeping for the "quietness" of his wife and in Mar 1572 he referred to "my wife's suit for the removing of my Lady Mary Grey". He characterized his wife's plight as "the bondage and heart sorrow she has had for these three years". After the Lady Mary finally left the Greshams, taking with her what Sir Thomas called "all her books and rubbish", they entertained the Queen twice more. In Aug 1573, Queen Elizabeth visited them at Mayfield, Sussex. In May 1578 she was their guest at Osterley Park.
He died of apoplexy very suddenly on 21 Nov 1579 and was buried in St. Helen's, Bishopsgate. He did not leave any descendants bearing his name to take up the gauntlet in his behalf, his only son having died in infancy, and his natural daughter he married to Nathaniel Bacon, settling upon the young couple an immense fortune. Anne Ferneley inherited Gresham House and the rents from the shops in the Royal Exchange, giving her an income of £2,388 10s 6½d per annum. Not satisfied with that, however, she fought the other bequests in her husband's will and kept that income also. After seventeen years as a very wealthy widow, she died at Osterley House. At that point, part of Sir Thomas's estate went to found Gresham College.
Gresham name was given to Gresham's law, the economic principle that in the circulation of money 'bad money drives out good', i.e., when depreciated, mutilated, or debased coinage (or currency) is in concurrent circulation with money of high value in terms of precious metals, the good money is withdrawn from circulation by hoarders. It was thought that Gresham was the first to state the principle, but it has been shown that it was stated long before his time and that he did not even formulate it.

Sources:
J. W. Burgon Life and Times of Sir Thomas Gresham, 1839.
F. R. Saltee, Sir Thomas Gresham, 1925.
C.R.N. Routh: Who´s Who in Tudor England (Who´s Who in British History Series, Vol.4)