Robert HOLGATE

(Archbishop of York)
Died: 15 Nov 1555
Buried: Church of St. Sepulchre, Holborn, London
---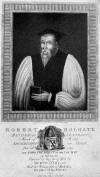 ---
Emerges from obscurity in 1537 as Bishop of Llandaff and Master of Semperingham, home of the Gilbertine Order, and of whom it was said, a great favourite at court. He was also Lord President of the Council in the North.
He left this Bishopric to become Archbishop of York in 1545 becoming the first Protestant Archbishop of York and also the first to be married. When Henry VIII died in 1547, Robert Holgate saw the Minster stripped of half its clergy and much of its treasure under Edward VI.
He acquired much wealth, land and property, stretching from Pickering and East Yorkshire to Hemsworth. Holgate was born in Hemsworth and did not forget his native village. He left an endownment the "Holgate Trust" which to this day controls the Hemsworth Holgate Alms House in Robin Lane, Hemsworth. The Alms House Trust was made for the upkeep of a number of men and women of the Protesant persuasion. Holgate also left money for school at Hemsworth, York and old Malton. In May 1548 the Archbishop, by deed poll, prescribed the rules and ordinances of the Hemsworth School.
He was President of the Council in the North, but proved unable to deal with the Seamer rebellion in Aug 1549, nad was replaced by Francis Talbot, Earl of Shrewsbury. He later claimedthat it was John Dudley, Earl of Warwick who '... touke such displeasure with me that... he put me firth of the rowme of the President...'.
As the Reformation progressed and Edward VI died, his sister, the Catholic Mary assumed the throne in 1553, and Robert Holgate, to quote from the York Minster Chronicle, quickly shed his wife and his Protestant faith to save his skin.
In 1554 he was deprived of his title, and in 1555 Robert Holgate, Archbishop of York, endowed a Hospital in Hemsworth by Will.
Robert Holgate died in London on the 15 Nov 1555, and his body was buried in the Church of St. Sepulchre, Holborn, London. (This statement contradicts that which is printed under the College of Hemsworth Portrait, and is made in the light of further historical knowledge, recently unearthed)